CHS Security Guard; No Stranger to Overcoming Obstacles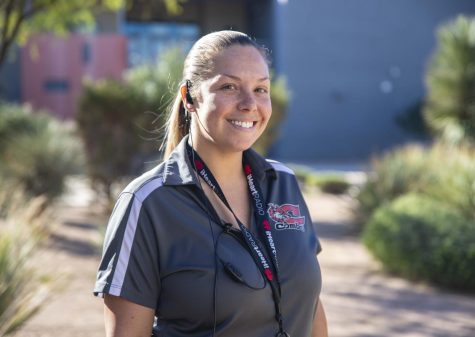 Every staff member here at CHS has walked down a different path to get to where they are now. For security guard, Brandi Fretz-Lowe, that path included dropping out of high school and getting her GED, having a child, and being the first in her family to graduate from college.
Fretz-Lowe's home life made it hard for her to attend high school.
"At the time, I had my sisters kids [that] I was raising and there was no daycare, so I was kinda doing it on my own," Fretz-Lowe said. "And high school just [wasn't] for me, a lot of you can probably relate to that."
High school might have not been in the cards, but that wasn't where Fretz-Lowe stopped her education.
"[I] got my GED [and] started my associates degree at the same place," Fretz-Lowe said. "Within a year and a half, I had my associates degree from Brookline college."
Fretz-Lowe was determined to carry on with her education even after she found out that she was expecting.
"I got pregnant at 17 and was a mom at 18, so I had a kid to raise by the time I was finishing my associates and my friends were graduating high school," Fretz-Lowe said. "I had to grow up quick and become a mom."
Some may have seen having a baby as a wrench in the plan, but Fretz-Lowe found a way to balance motherhood with her education.
"I graduated college with Honors so I'm part of the honors society, I'm the only one of my family to have a degree and have graduated college," Fretz-Lowe said.
Being the first in her family to graduate college gave Fretz-Lowe more motivation and drive.
"It felt good knowing that I was gonna achieve more than what they did, it pushed me to do more, to want to do more then they had done for themselves," Fretz-Lowe said.