Help for the Prom Procrastinator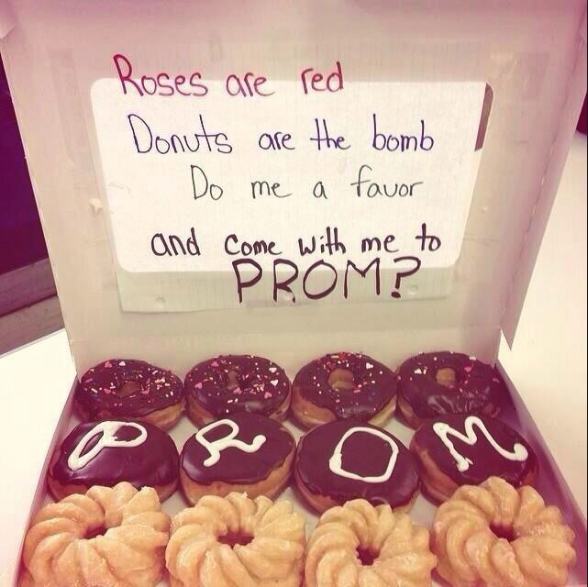 With prom just around the corner, the pressure is on to find a date. Promposals are key to the high school prom experience. It may be common knowledge that teenagers aren't always the smoothest talkers; especially when it comes to the language of love. To help out, here are a few promposal ideas that are sure to land you a date to the final dance of the year.
 Does your bae have a sweet tooth or maybe they just want to put on some weight after wrestling season? If so, hit up Dunkin Donuts and pick up a fresh dozen. On the inside of the box, write some clever donut pun like, "roses are red, donuts are the bomb, do me a favor and come with me to prom."
 Maybe you're planning on asking that girl that's always on her phone watching beauty tutorials. Take a trip down the makeup aisle and pick out a nice eyeshadow pallet or a classy lipstick. Partner your gift with a note or poster that says, "will you make your way up to prom with me?"
 If your love interest has an interest in Grey's Anatomy, hop into a pair of scrubs and make a sign that says, "I may not be McDreamy or McSteamy, but will you be my person at prom?" If you don't get it, hopefully they will.
 Or if it's your first time asking someone to prom, go buy some hot wings from Buffalo Wild Wings or Wing Stop and say something cute like, "I've never asked anyone to prom before so I'm just going to wing it."
 Okay, now that you know how to pop the question, It's time to plan the date. Here are a few inexpensive but totally cute date ideas that will surely earn you the title of "couple goals".
 Pack a nice meal with some sandwiches, fruits and veggies, load up the car with a blanket and some board games and drive to a park. If you want to be a little extra, go on a hike to a flat spot with a view of the valley. Your date will be surprised that you took the time to put together a picnic and it presents the perfect opportunity to just enjoy each other's company.
 Do you and your boo like to joke around and have a good laugh? If so, go down to the local thrift store and try on the worst dresses and suits you can find. After finding the perfect outfits, ask one of the workers or even another customer to take some cheesy couple pictures of you two.
 If your date isn't available until later in the day and you don't have much time before the dance, just get dressed up and stop by your guys' favorite food joint and grab a quick bite. Walk in with confidence, even if the people asking you what you want for you second item is giving you weird looks. Drive to the venue with the radio blasting, or at an appropriate volume, and play some car-karaoke.
 In the end, prom is not the most important night of your life, but that doesn't mean it can't be the most memorable till the next one comes along. Whether your a jock asking a band geek or a history buff taking the head cheerleader, have fun and be yourself! Please just remember to obey the law and dance to your heart's content.