California Beaches to Arizona Sunsets
  From Los Angeles, California, CHS welcomes Paul Gutierrez as one of CHS' new security guards. Gutierrez said it was a risk to take the job but he is happy he works here. Gutierrez fell in love with education while he was volunteering at the Chandler Boys and Girls club.  
  Before taking the security position at Combs, Gutierrez worked in the Gilbert Unified School District for a year and a half, then Queen Creek District with the Special Education students.
  "I wanted to help and inspire kids with education, that's how I ended up as a Paraprofessional." said Gutierrez.
  After three years, Gutierrez was looking for something different. He took a look at what was around in this small town and saw the opening at CHS for a security guard and took the risk for something new.
  He is working on his master's degree and is attending Chandler Gilbert Community College, then plans on transferring to the Northern Arizona University program out in San Tan Valley to become a counselor and motivational speaker for Special Education students.
  "I love NAU–they are such a giving school. Growing up I didn't have a school that made education not just a necessity but fun, so I feel NAU is that school. I can't wait to graduate from there."
  Gutierrez's first few weeks were rough and stressful, even though he had the experience. He has worked security at a courthouse in Nevada and other big events.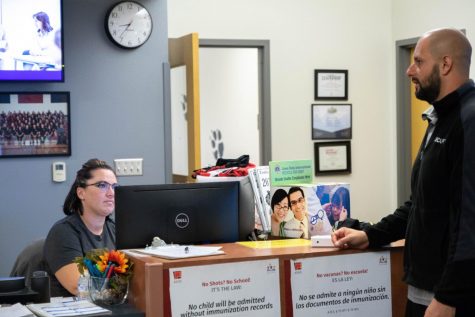 High school security is a lot different, he is working with kids and wants to make a change. At first Gutierrez was concerned about doing his job right, saying the wrong things and his strictness has been a worry for him.
"I kept thinking to myself that I want to be here, I want to inspire kids and I want to do this. I made my own fit and it worked," Gutierrez said