Behind Door Four-Thirty-Four
  For the past few years at CHS there's been a large turnover of faculty leaving teachers and students with the task of learning the names of all the new faces around campus, and the teacher in classroom 434 is no exception.
  First year high school teacher, Cassandra Pollock spends her day teaching Algebra 1 and balancing the hectic life of an educator.
  "I keep busy — managing lesson plans, grades and behaviors; its intense." Pollock said.
  Although this is Pollock's first year teaching high school, she is no stranger to education.
  "I came from California; I taught seventh grade," Pollock said. "This is my fifth year teaching."
  Going from teaching middle school to high school students is not much of a change for Pollock.
  "Behaviors are the same, topic is different," Pollock said.
  Despite being new here at Combs, Pollock has enjoyed the year so far.
  "Combs has given me a learning experience for high school," Pollock said. "It's been great. Everybody is friendly and helpful."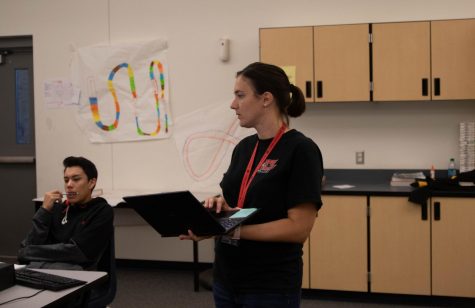 Outside of school Pollock enjoys staying home with her children and making lasting memories.
  "We're learning to swim, so that's how we spent our summer," Pollock said. "They are four and six."