From Hip-Hop to High School
The bonding of community through music and style — nights of partying and living under dimmed lights, days of clothing and style. Nights of low, thrumming, pulsing beats while moving to the rhythm of bodies with big names with big impacts; days of bonding with and helping his community through a sense of fashion. This was something Combs' Juston Slocum knew well.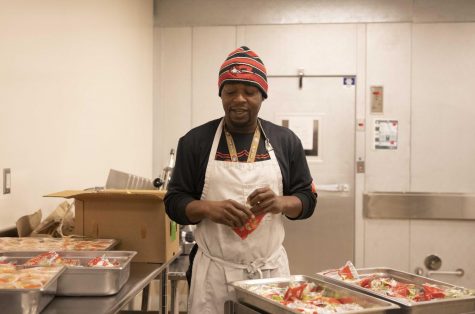 Slocum is the equipment manager here at Combs, as well as one of the cooks in the cafeteria, but before his life at Combs, Slocum owned a contemporary hip-hop clothing store called Dubb's Clothing.
Slocum opened Dubb's Clothing in Los Angeles in 2002 with a few of his friends. He started out selling white T-shirts out of the trunk of his car until his uncle, L.V., who featured on Gangster's Paradise by Coolio, gave Slocum some money to start the business.
"Four young cats and we were able to capitalize off of it. It was pretty big," Slocum said.
Dubb's Clothing grew big, quickly, thanks to the help of his uncle, along with the right location of the store.
"Where my shop was, there was a location restaurant called Roscoe's Chicken and Waffles, one of the biggest places you could eat at in California, but our store was right below it," Sloum said. "So whatever out of towners would go in, and check them out, they would come and check us out, and that was how it got started."
The store sold men's clothing, girl's clothing, and was a hotspot within the community, where Slucom even helped out. The helping of his community is what helped the franchisee to spread their wings.
"There was a kid who came to the store, and he couldn't afford no shoes, so I was like, 'You know what? Let me change the color.', and I cleaned them up," Slocum said. "We started from there. My boy, Mike, he has a shop on Melrose [Avenue] right now called 'Break Your Neck', and he took it to a whole different level. That's how we really got our name out there."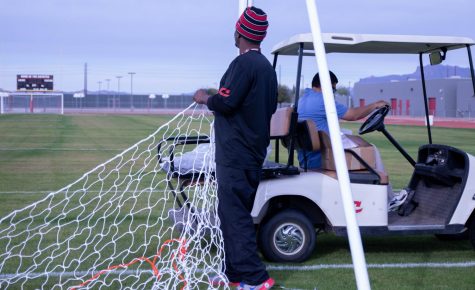 Dubb's Clothing started to draw the attention of big names through their shoe designs.
"Actually, we were able to do shoes for [The] Game, Snoop [Dogg], Akon, Young G-Eazy, and CeeLo Green, [and] just a lot of hip-hop hits," Slocum said. "The game got taken to a whole different level. It was fun."
However, things were starting to down hill when the economy started declining.
"What happened was, the economy went down, and once the economy started going down, that's when you know, time is up," Slocum said. "People were buying food instead of buying clothes.
Slocum didn't mind the change, however, saying that he needed to cool down, and that things were going to fast for him. He made the switch from Los Angeles to Arizona about 10 years ago, and got a job at Combs.
This is Slocum's second year at Combs, but the 2018-2019 school year is his first full year working.
"I actually need [the kids]. Coming to the school, they show respect, you know, you're not going to get a lot of kids who show you respect right off of the bat. I don't look down to the kids. I'm level, unless something outrageously happens, I want them to know they can come to me. Come talk. They are very, very intelligent kids," Slocum said. "Wouldn't change this job for the world."