More to Student Media than TV Shows, Newspapers, Yearbooks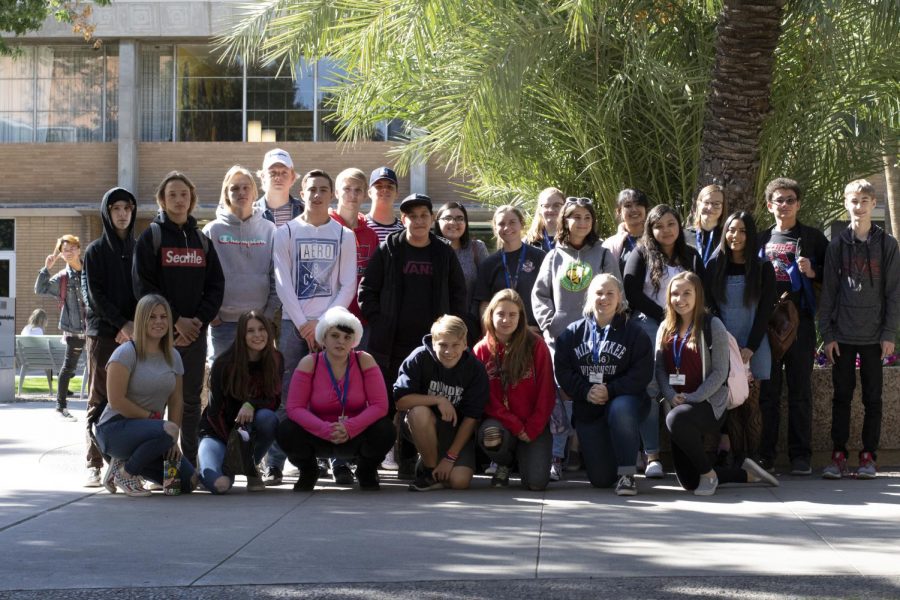 Do you know you know what the three student medias are here at CHS, I know you know one of them but what about the rest of them?
The student medias here at CHS includes; the Combs Courier (Digital Communications and Mass Media), The Rundown (TV Production), and EPOCH (Yearbook). 
Many students that take these classes often choose to take it for the CTE credit, that is required here at CHS, or it would be an alternative, but sometimes they enjoy the class so much that they continue to take it. Such as EPOCH member Kylie Millican.
"I put it as one of my backups and I wasn't really expecting to be put in there, and then I really got into it more and I really started to like it, something about combining all of them, writing and photo, makes it really fun to me," Millican said, " I couldn't stop myself from the excitement of it." 
Taking a student media has helped and prepared many Combs graduates in the 'real world' as well with the experience of being able to take criticism.
"Without the criticism, truth be told, I probably would have continued to produce half baked and stupid story idea." alumnus Alex Gould said.
2019 Valedictorian Gordon Kok has gotten many job offers due to gaining communication and interviewing skills from taking a student media class.
"Although I had a pretty good resume,I don't believe I would have been able to get those jobs if it weren't for the communication and interviewing skills I picked up in Journalism," Kok said.
In the last three years, four students, including Gould, have decided to continue their journalistic education at Walter Cronkite School of Journalism and Mass Communication.
If you are interested in things like photography, reporting, writing, or getting out there and showing off your inner self, then taking a student media is a great idea for you. It provides many opportunities. Like making new friends and competing at the national conventions, like JEA and AIPA. We have in total won 13 awards.
"I got to go to California, I got to go on a plane and Disneyland for the first time," staff writer Lilly Threlkeld said, "And it gives me a lot of want do stuff."
Even if you do not want to pursue journalism in college you don't need to, but the experience of being in a student media class helps in a lot of different majors. 
"I am a Biomedical Engineering and Pre-Med students and even I was able to learn so much from it," Kok said.
Even though taking a media class may seem boring, its not. All the people you get to meet and create bonds with in these classes could last a lifetime. The people in these classes are nothing like your normal friends. Personally, I enjoy having all of these people as my friends and I even consider them my family because I know that I can fall back on them if I ever had a problem.
"Without the student media program I doubt I would have formed the bonds I did," said Gould, "And I would not be where I am today without them."
Also the teachers that educate these students help and also create bonds. Student Media teachers are not the teachers that 'don't want to make friends', they want to create a parental bond with their students and want to see the best from their students. 
Brian Taylor is the adviser for all of the student media and, from observing his classes, he has a very tight bond with many students.
The student medias are traveling to Tennessee for this year of JEA. Then the student media classes will be taking a trip to Seattle, Washington for the 2020-2021 school year. If you join into any of these three classes then you will have the opportunity to go, and have a great time with all the amazing people in these classes.
The Combs Courier is our school newspaper which doesn't get as much attention as it deserves.
Many of these student journalists stay after school trying their hardest to do just that so you guys can get a taste of what's going around in San Tan Valley. These stories can be found the Combs Courier website or an addition of the newspaper.
The pride you feel after putting something into the newspaper that goes out to about 2000 students is huge! It's a sense of accomplishment that you wouldn't necessarily get from not taking this type of program.
"I definitely felt relieved and proud," 2018-2019 staff writer Alani Rhodes said, "because everyone got to see all the hard work we did as a staff, and it was really heartwarming to see people reading it or showing their friends."
The Rundown is one of the most widely known programs on this campus.
 The Rundown is aired all over the school every three weeks on Thursday and now holds the daily announcements. 
Before being able to actually join the Rundown you are trained in TV Production 1. Then after a full year of training you will join.
EPOCH is the yearbook at Combs and they are usually the ones walking around on school spirit weeks asking students to get a photo taken for the yearbook spirit week section. 
The EPOCH is widely known around the campus.
Being apart of EPOCH means letting your creativity spark and putting your mind to whatever you want.
If you want to go to your 'dream' college and want to succeed in doing so taking a journalism class will help a lot with your ACT examination in order to get into a college.
According to the Newspaper Association of America, "Students with high school journalism experience  performed significantly better than those who lacked journalism exposure."
All the programs wish that there were more people in the programs because they are afraid that after they are gone the program will die off and then there's no newspaper, Rundown episodes, or yearbook. 
This is something that every single person who has cried, laughed and had good times in this classroom hope will never happen. So by joining these classes will keep everyone's experiences and memories alive! 
So next year I hope to see many of you in a student media class.