Difficult Boys Soccer season drawing to a close
Winless Coyotes looking beyond their rough season and into the future where they look to be more competitive.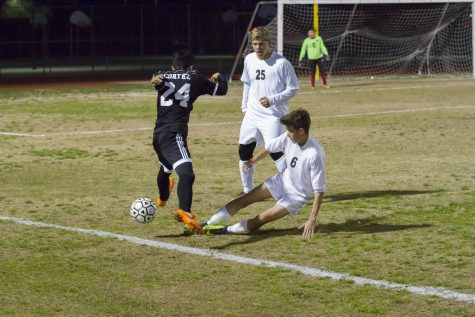 The boys varsity soccer game against Cortez on Tuesday ended with a score of 10- 1. While the boys have been playing and practicing hard all season, their overall record doesn't reflect it. As the season comes to an end, the 12 games they have played all have the same result, the Coyotes are on the losing end and not having scored more than one goal in a game.
Though the season has been short of wins, Head Coach Leah Moyes still holds high hopes for her team's future.
"Overall, it's been a really tough season," Moyes said. "We are competing above our level but they can do it, we can only go up from here, right?"
Although some of the other schools have more opportunity to practice, Moyes sees one key element as having the biggest impact on who holds the winning numbers on the scoreboard.
"Next season, we have to get competitive," Moyes said. "That's the thing, we're [playing] competitive high school sports and we're competing against teams that [have] all of their players play club off season, some of these schools have a six hour soccer class where they can weight lift and condition year round."
Even though the boys haven't won any games this season, Moyes still views her team as winners
"We've definitely made progress [since the beginning]," Moyes said. "That was one of my team goals, to progress everyday and I feel like we have."
With the season coming to a close, Moyes plans to get her boys to play together more, keep their spirits high and competitive
"I think my players are phenomenal, each one of them bring strengths and skills to the field, the problem we're having is that we're not connecting them as a team," Moyes said. "Between now and the next game I will continue to tell them that they're amazing and we [will] play strong to the finish no matter what."